Boho Tamariu Dress Limited Edition
Regular price

$243.43 excl. VAT

Regular price

Sale price

$243.43 excl. VAT
This item is in stock. Processing time 1-3 days.
Meet the one more limited edition dress from our collection - and just like the other: enjoy while it lasts!

This one size fits all boho inspired dress will be perfect for all kinds of photoshoot and occasions. Lovely empire waist dress made of an elegant embroidery chiffon in a brown hue. The beautiful dress features elegant off the shoulder poet sleeves with a delicate ruffled wrist and neck. The long circle skirt has ruffle details in the length and a split on the legs.
TOP: Off Shoulder
MATERIAL: Chiffon
COVERAGE: Limited Sheer
STRETCHY: No
SPLIT/SLIT: Slit
Looking for a boho western chic style? Check our entire Boho Collection!
Don't forget to check our accessories session to make your look even more prettier.
Shop All Maternity Dresses by Color: White, Red, Black, Pink, All.
_______________________________________________________________
How stretchy is this dress? ★★
Shipping & Returns

Mii-Estilo works with FedEx, UPS, DHL and DPD International.Shipping inside Europe normally takes 1-5 days; Shipping to the US takes 1-10 days; Some other international destinations might take up to 10 days - this time frame is excluding possible customs issues.

We have a 30-day return policy, which means you have 30 days after receiving your item to request a return. For more information, check out our Refund Policy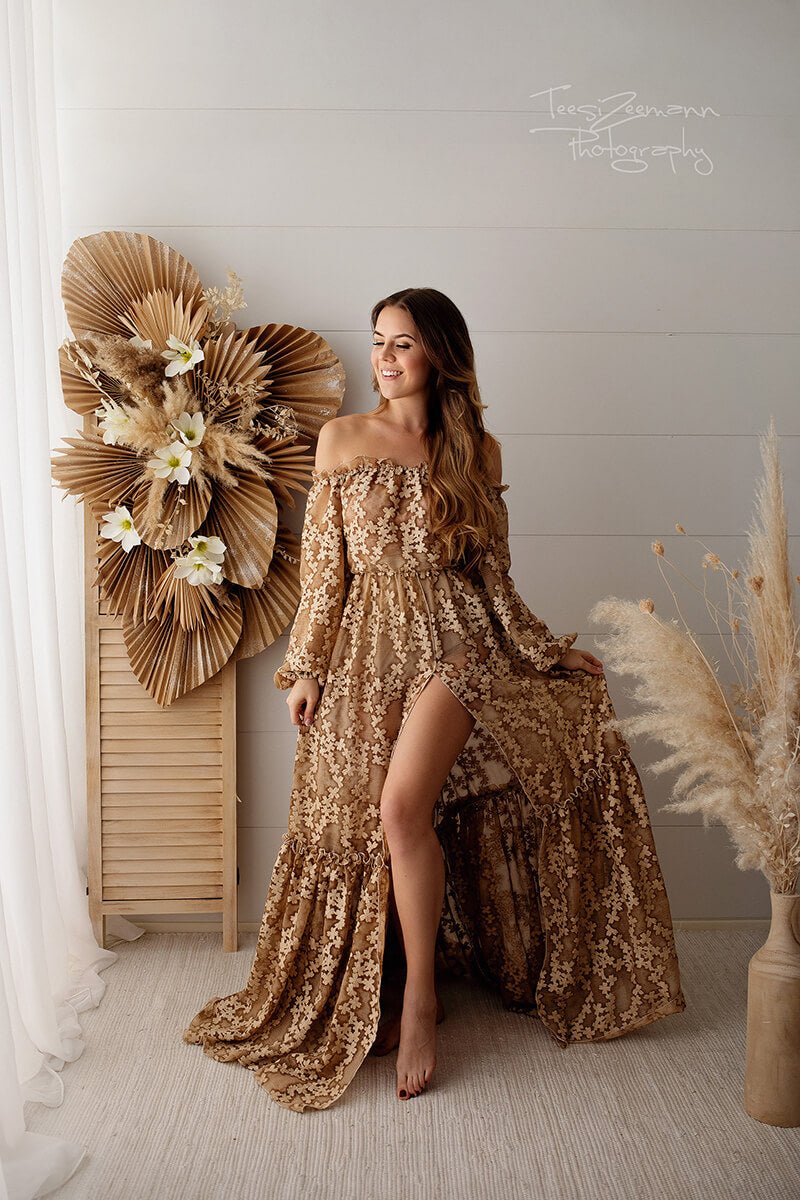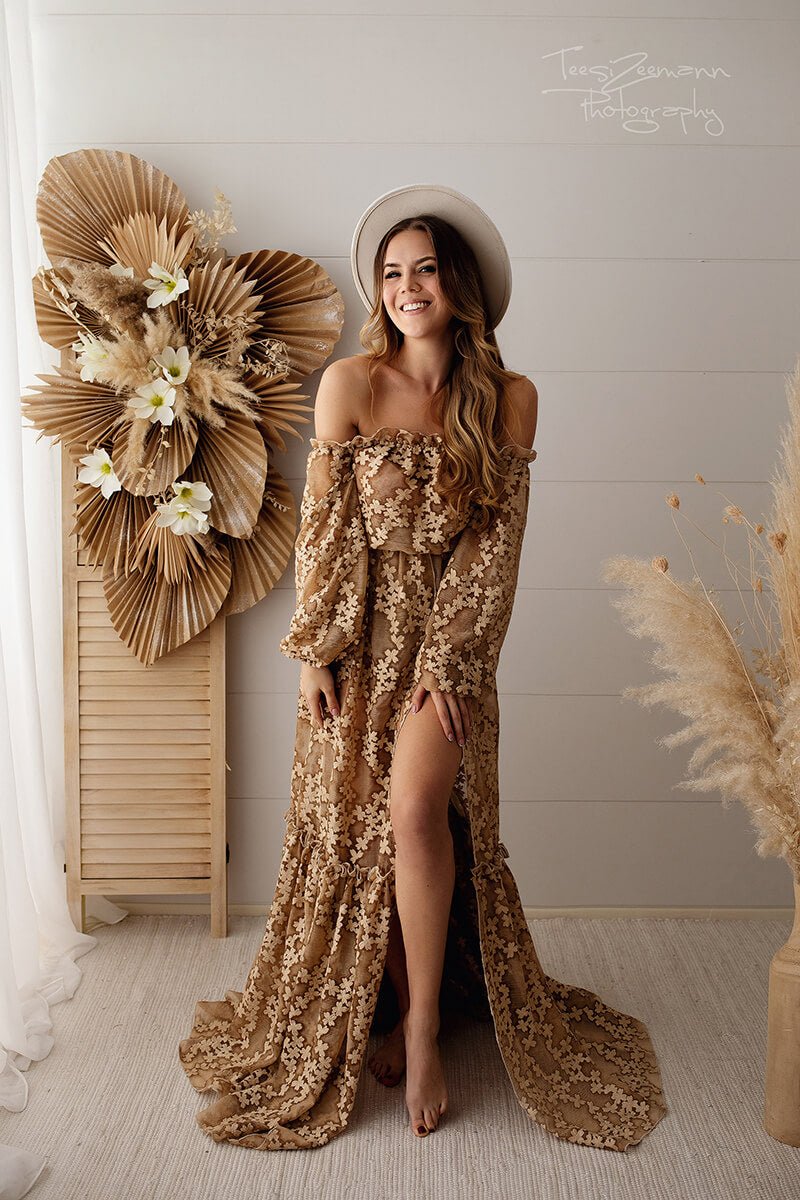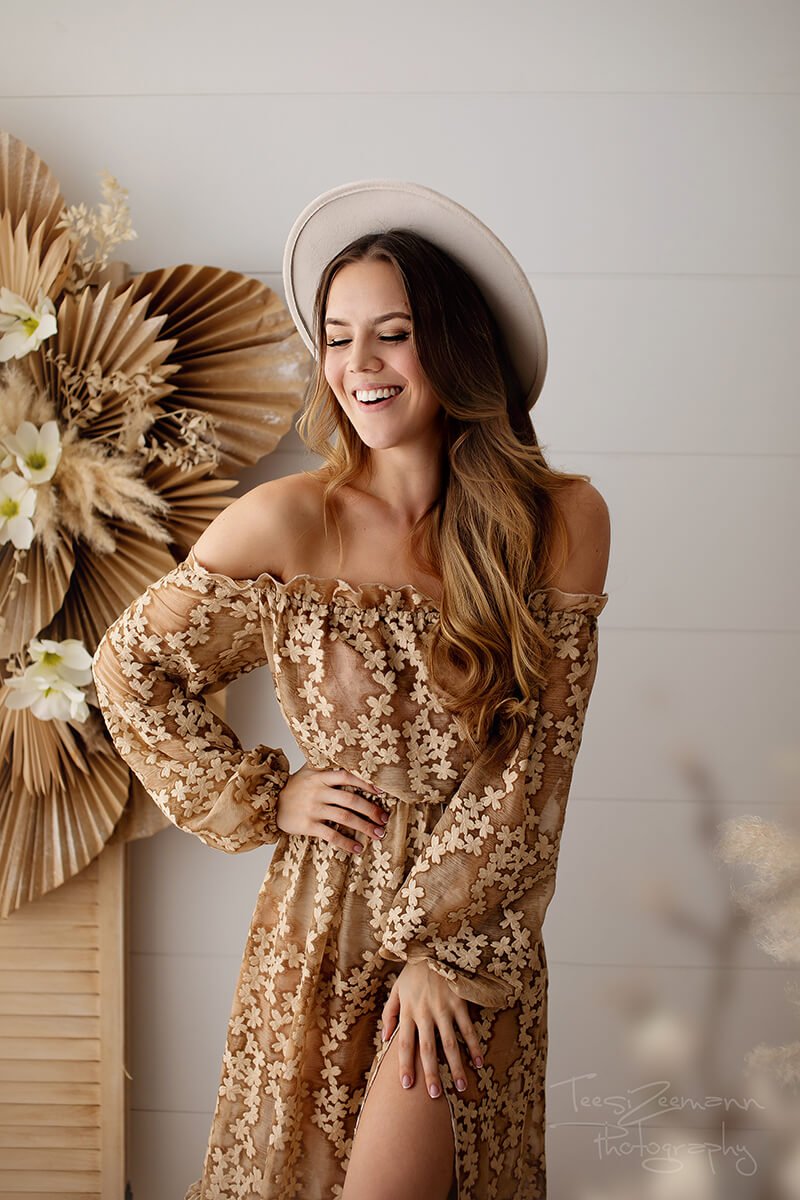 Size chart - Maternity products
Inches:
| | | | | | |
| --- | --- | --- | --- | --- | --- |
|  Europe | USA | UK / AU | Mi-Estilo | Below the Brest | Belly/Waist/Hips |
| 36-38 | 6-8 | 8-10 | S/M | 31.5 - 33.5 | 35.4 - 37.4 |
| 38-40 | 8-10 | 10-12 | M/L | 32.7 - 34.6 | 37.4 - 39.4 |
| 40-42 | 10-12 | 14-16 | L/XL | 33.9 - 35.8 | 39.4 - 41.3 |
| 42-44 | 12-14 | 18-22 | XL/XXL | 35 - 37 | 41.3 - 43.3 |
CM:
| | | | | | |
| --- | --- | --- | --- | --- | --- |
|  Europe | USA | UK / AU | Mi-Estilo | Below the Brest | Belly/Waist/Hips |
| 36-38 | 6-8 | 8-10 | S/M | 80 - 85 | 90 - 95 |
| 38-40 | 8-10 | 10-12 | M/L | 83 - 88 | 95 - 100 |
| 40-42 | 10-12 | 14-16 | L/XL | 86 - 91 | 100 -105 |
| 42-44 | 12-14 | 18-22 | XL/XXL | 89 - 94 | 105 - 110 |