Evanthe Dress
Regular price

$232.32 excl. VAT

Regular price

Sale price

$232.32 excl. VAT
This item is made to order. Processing time 1-2 weeks.
Introducing our stunning sequin photo shoot dress—an incredibly versatile piece that adds a touch of glamour to any setting. This dress has become a staple in family photo shoots, beloved not only for its captivating aesthetic but also for its adaptability. Maternity photographers, in particular, have embraced this dress with enthusiasm, as it flatters both pregnant and non-pregnant women with equal grace.
The dress features a timeless V neckline, adding an element of sophistication to your look. The wide sleeves exude a chic and relaxed vibe, while the half-circle skirt and slit contribute to the dress's overall elegance. The design seamlessly blends comfort and style, ensuring you feel as fantastic as you look during your photoshoot.
This dress is the epitome of versatility, making it suitable for a range of occasions. From elegant photoshoots to chic sessions and even festive Christmas-themed shoots, it has proven to be a favorite among photographers and clients alike. For those precious mother-daughter moments, we offer a charming children's version of this dress, creating picture-perfect memories.
What truly sets this dress apart is its ability to shine in any color, allowing you to express your individuality and match the aesthetic of your photo shoot effortlessly. Whether you envision a classic black dress or a vibrant burst of color, this dress is a canvas for your imagination.
Elevate your photo shoot experience with this sequin dress—where timeless elegance meets contemporary style, creating unforgettable moments captured in every frame.
TOP: On Shoulder
MATERIAL: Sequin
COVERAGE: Yes
STRETCHY: Yes
FIT: Empire Waist, Half Circle
SPLIT/SLIT: Slit
One size fits all.
Shop All Maternity Dresses by Color: White, Red, Black, Pink, All.
Shipping & Returns

Mii-Estilo works with FedEx, UPS, DHL and DPD International.Shipping inside Europe normally takes 1-5 days; Shipping to the US takes 1-10 days; Some other international destinations might take up to 10 days - this time frame is excluding possible customs issues.

We have a 30-day return policy, which means you have 30 days after receiving your item to request a return. For more information, check out our Refund Policy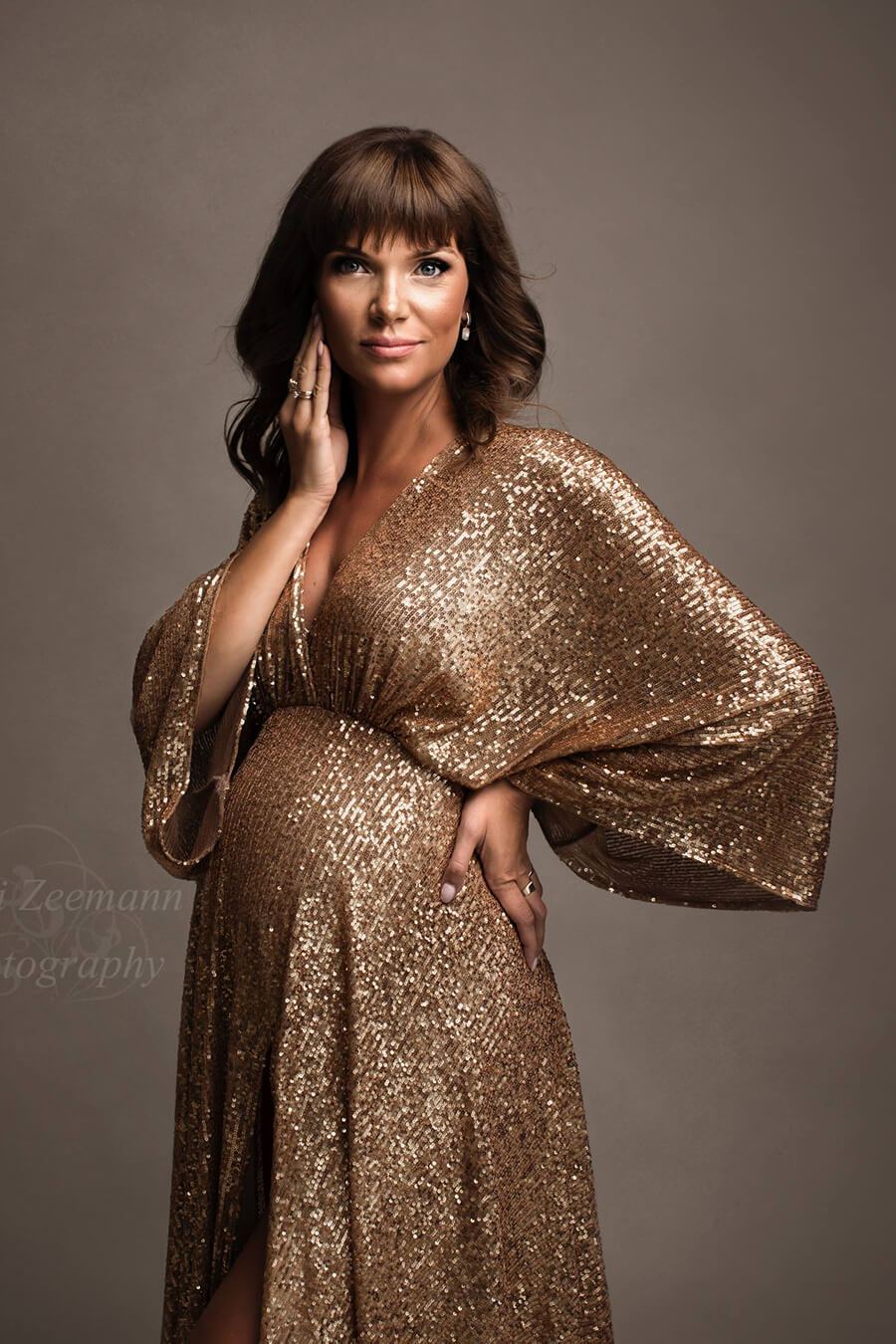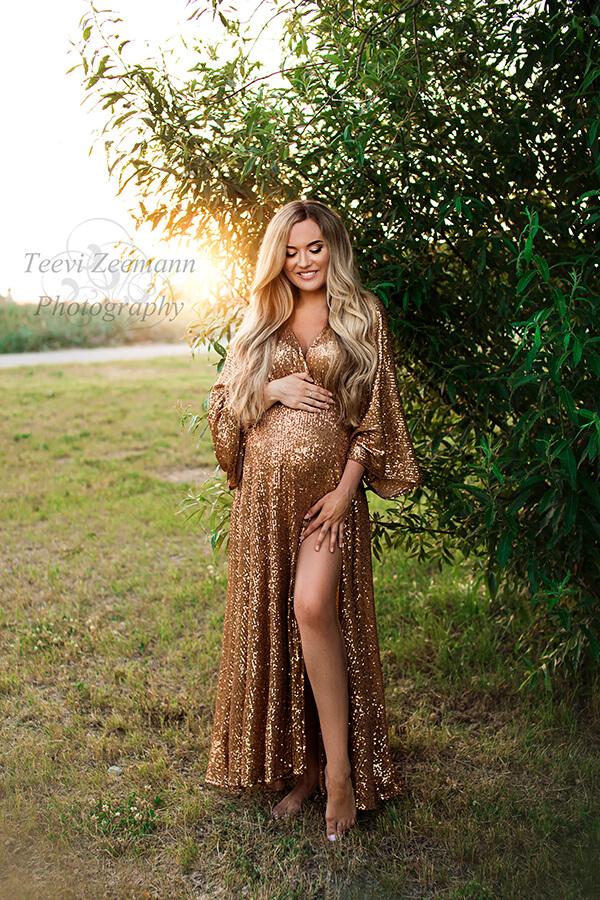 Size chart - Maternity products
Inches:
| | | | | | |
| --- | --- | --- | --- | --- | --- |
|  Europe | USA | UK / AU | Mi-Estilo | Below the Brest | Belly/Waist/Hips |
| 36-38 | 6-8 | 8-10 | S/M | 31.5 - 33.5 | 35.4 - 37.4 |
| 38-40 | 8-10 | 10-12 | M/L | 32.7 - 34.6 | 37.4 - 39.4 |
| 40-42 | 10-12 | 14-16 | L/XL | 33.9 - 35.8 | 39.4 - 41.3 |
| 42-44 | 12-14 | 18-22 | XL/XXL | 35 - 37 | 41.3 - 43.3 |
CM:
| | | | | | |
| --- | --- | --- | --- | --- | --- |
|  Europe | USA | UK / AU | Mi-Estilo | Below the Brest | Belly/Waist/Hips |
| 36-38 | 6-8 | 8-10 | S/M | 80 - 85 | 90 - 95 |
| 38-40 | 8-10 | 10-12 | M/L | 83 - 88 | 95 - 100 |
| 40-42 | 10-12 | 14-16 | L/XL | 86 - 91 | 100 -105 |
| 42-44 | 12-14 | 18-22 | XL/XXL | 89 - 94 | 105 - 110 |