Mimosa Limited Edition Dress (3 available)
Regular price

$505.76 excl. VAT

Regular price

Sale price

$505.76 excl. VAT
This item is in stock. Processing time 1-3 days.
Hurry, only 3 items left in stock!
Introducing our exclusive limited edition dress—a true masterpiece with only three unique pieces in existence! This gown is a testament to both luxury and artistry, making it the perfect choice for your extraordinary photoshoot.

This stunning dress showcases a strapless top with beautifully crafted cups adorned with gorgeous lace, all meticulously hand-tailored for an exquisite touch. The back of the top features basting threads, allowing for easy adjustments. This innovative design ensures that the dress maintains its original size while providing the flexibility to be worn seamlessly from non-maternity to maternity (up to size L).

Elevate your photoshoot to new heights with the unparalleled beauty and exclusivity of this limited edition dress. With only three available, each gown is a rare and special creation, guaranteeing that your photos will be as unique and exceptional as the dress itself. Make a statement in every shot and cherish the moments in a dress designed to enhance the magic of your amazing photoshoot.
TOP: Cups ( European size C/D/E)
MATERIAL: Bridal 3D Lace and Soft Tulle
COVERAGE: Yes
STRETCHY: No (The back can be tied)
SPLIT/SLIT: Split in Front
Like mentioned above, the dress is one size and fits up to a size L.
Processing time 2-4 weeks
Shipping & Returns

Mii-Estilo works with FedEx, UPS, DHL and DPD International.Shipping inside Europe normally takes 1-5 days; Shipping to the US takes 1-10 days; Some other international destinations might take up to 10 days - this time frame is excluding possible customs issues.

We have a 30-day return policy, which means you have 30 days after receiving your item to request a return. For more information, check out our Refund Policy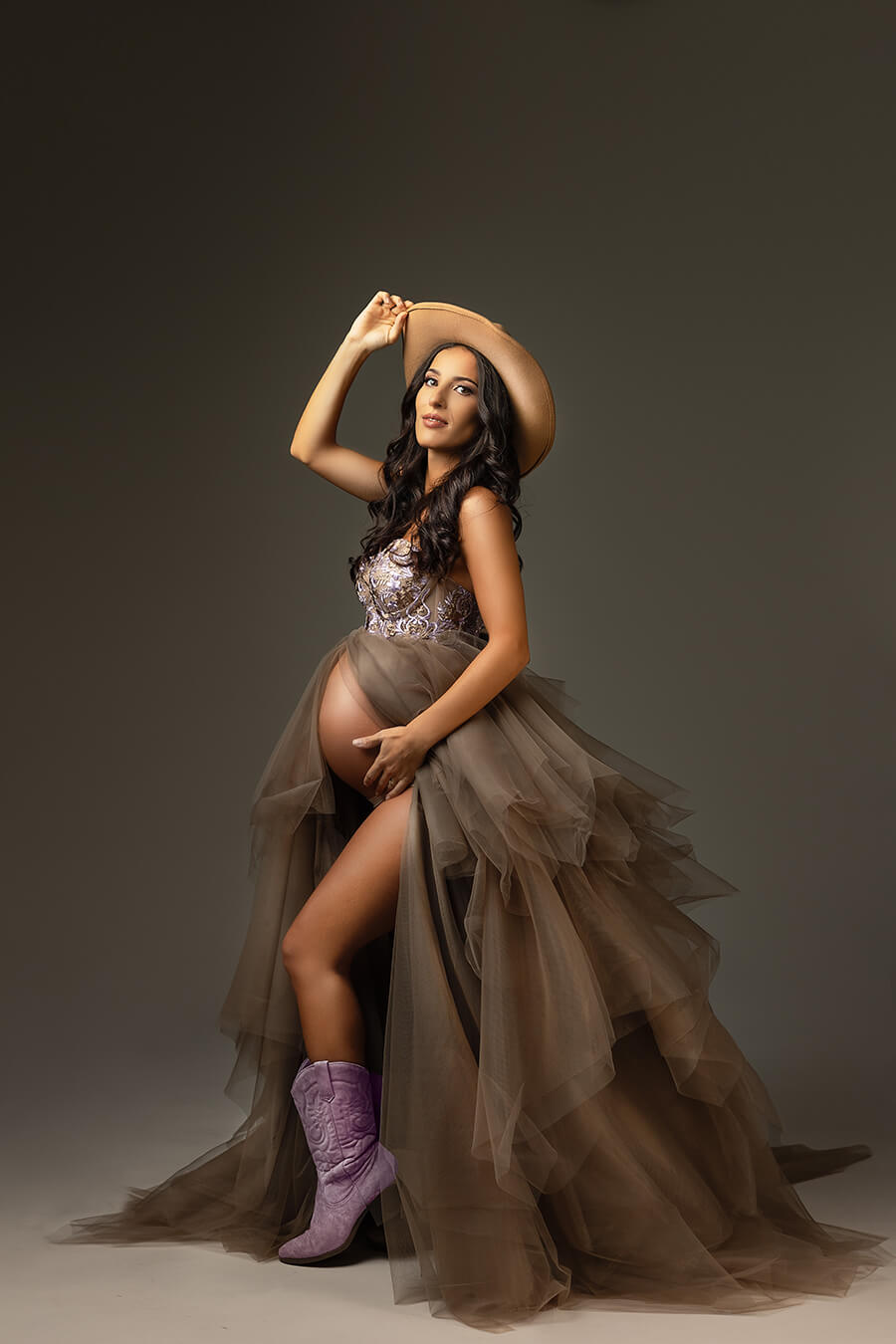 Size chart - Non maternity
Inches:
| | | | | | |
| --- | --- | --- | --- | --- | --- |
|  Europe | USA | UK / AU | Mii-Estilo | Below the Brest | Belly/Waist/Hips |
| 36-38 | 6-8 | 8-10 | S/M | 31.5 - 33.5 | 35.4 - 37.4 |
| 38-40 | 8-10 | 10-12 | M/L | 32.7 - 34.6 | 37.4 - 39.4 |
| 40-42 | 10-12 | 14-16 | L/XL | 33.9 - 35.8 | 39.4 - 41.3 |
| 42-44 | 12-14 | 18-22 | XL/XXL | 35 - 37 | 41.3 - 43.3 |
CM:
| | | | | | |
| --- | --- | --- | --- | --- | --- |
|  Europe | USA | UK / AU | Mii-Estilo | Below the Brest | Belly/Waist/Hips |
| 36-38 | 6-8 | 8-10 | S/M | 80 - 85 | 90 - 95 |
| 38-40 | 8-10 | 10-12 | M/L | 83 - 88 | 95 - 100 |
| 40-42 | 10-12 | 14-16 | L/XL | 86 - 91 | 100 -105 |
| 42-44 | 12-14 | 18-22 | XL/XXL | 89 - 94 | 105 - 110 |