Petunia Dress
Regular price

$353.48 excl. VAT

Regular price

Sale price

$353.48 excl. VAT
This item is made to order. Processing time 1-2 weeks.
Introducing our show-stopping photoshoot gown—a dream come true for capturing those magical moments! This extraordinary set, crafted from luxurious taffeta, is bound to leave a lasting impression. Prepare to turn heads and create a visual masterpiece with this versatile ensemble.
The set comprises a mesmerizing skirt, an elegant top, and loose sleeves that collectively form a breathtaking full gown. Wearing all the pieces together creates a seamlessly coordinated look that's nothing short of enchanting. However, the true beauty of this set lies in its versatility. Mix and match to unveil different looks—a chic strapless dress, a timeless skirt paired with a sophisticated top, or the complete ensemble adorned with the exquisite puffed sleeves.
This gown is not just an outfit; it's a canvas for your creativity. Transform your photoshoot with the ability to customize and create diverse looks, each reflecting your unique style. Elevate your photography experience with the sheer elegance and adaptability of this dreamy taffeta photoshoot gown.
TOP: Cups

SLEEVES: Exaggerated puff loosen sleeves
MATERIAL: Taft
COVERAGE: Yes
STRETCHY: No
SPLIT/SLIT: Yes 
Photographers usually buy size M/L
Not a photographer? order the size you wore before your pregnancy.
Shipping & Returns

Mii-Estilo works with FedEx, UPS, DHL and DPD International.Shipping inside Europe normally takes 1-5 days; Shipping to the US takes 1-10 days; Some other international destinations might take up to 10 days - this time frame is excluding possible customs issues.

We have a 30-day return policy, which means you have 30 days after receiving your item to request a return. For more information, check out our Refund Policy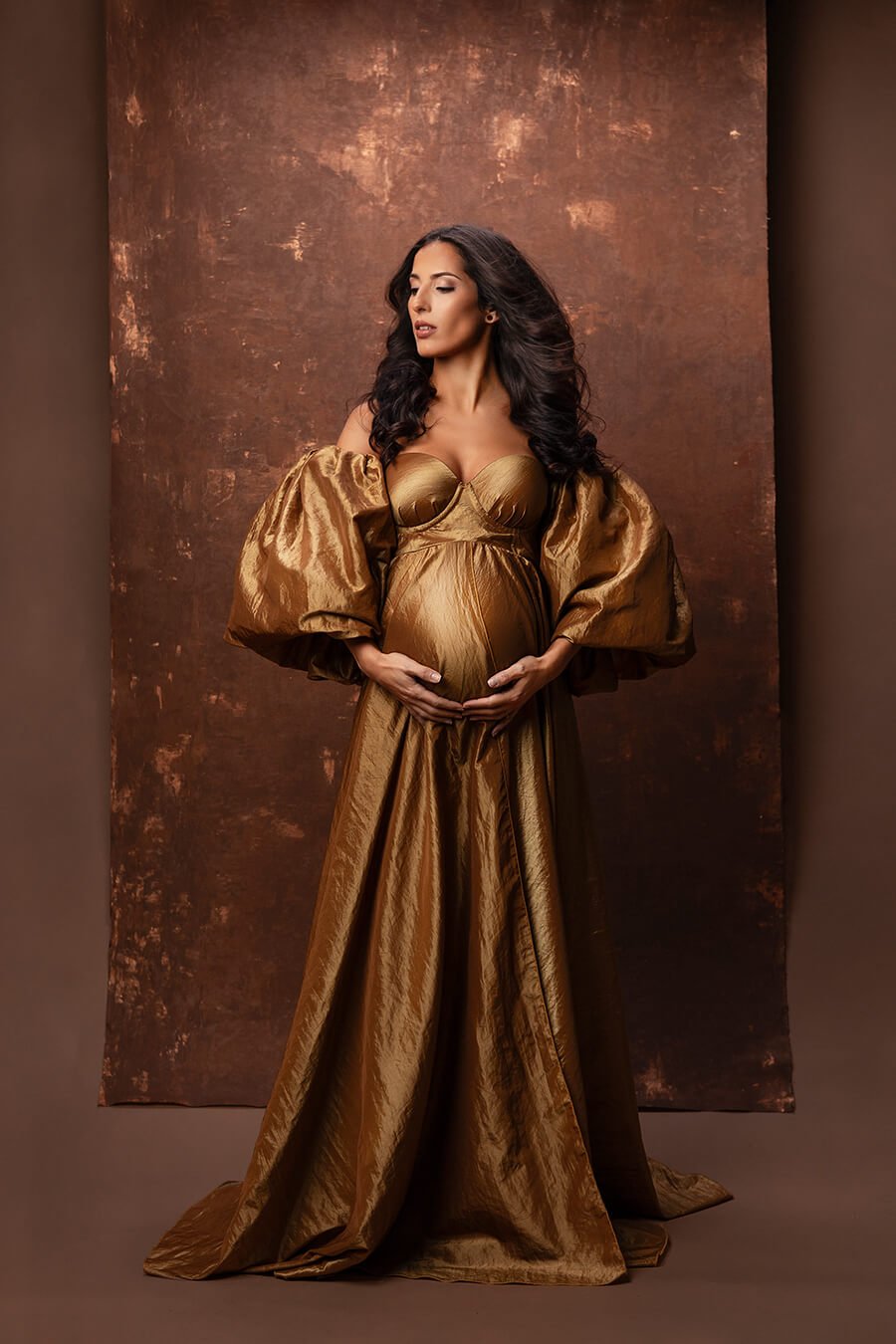 Size chart - Maternity products
Inches:
| | | | | | |
| --- | --- | --- | --- | --- | --- |
|  Europe | USA | UK / AU | Mi-Estilo | Below the Brest | Belly/Waist/Hips |
| 36-38 | 6-8 | 8-10 | S/M | 31.5 - 33.5 | 35.4 - 37.4 |
| 38-40 | 8-10 | 10-12 | M/L | 32.7 - 34.6 | 37.4 - 39.4 |
| 40-42 | 10-12 | 14-16 | L/XL | 33.9 - 35.8 | 39.4 - 41.3 |
| 42-44 | 12-14 | 18-22 | XL/XXL | 35 - 37 | 41.3 - 43.3 |
CM:
| | | | | | |
| --- | --- | --- | --- | --- | --- |
|  Europe | USA | UK / AU | Mi-Estilo | Below the Brest | Belly/Waist/Hips |
| 36-38 | 6-8 | 8-10 | S/M | 80 - 85 | 90 - 95 |
| 38-40 | 8-10 | 10-12 | M/L | 83 - 88 | 95 - 100 |
| 40-42 | 10-12 | 14-16 | L/XL | 86 - 91 | 100 -105 |
| 42-44 | 12-14 | 18-22 | XL/XXL | 89 - 94 | 105 - 110 |