Boho River Set
Regular price

$188.50 excl. VAT

Regular price

$235.63

Sale price

$188.50 excl. VAT
This item is made to order. Processing time 1-2 weeks.
Introducing our truly boho-chic dress set, a mega-popular ensemble that effortlessly captures the essence of free-spirited style. This versatile set comprises a captivating top and a matching skirt, allowing you to unleash your creativity with multiple styling options. The top, a fashion chameleon, can be worn in various ways – from criss-cross to tied, back to front (with a high neck), or bottom up with a charming ruffle line. The possibilities are endless, providing you with a myriad of unique and personalized looks.
Crafted from a delightful mouseline fabric, this set exudes both comfort and elegance. The skirt features a tasteful slit adorned with a playful ruffle, adding a touch of whimsy to the ensemble. Whether you prefer to wear the skirt under the bust or comfortably below the belly, this set adapts seamlessly to your individual style and preferences.
Perfect for the spirited souls who revel in the western aesthetic, our dress set invites playful photography sessions complete with cowboy boots and hats (check out our accessories for the perfect finishing touches). Ideal for boho-style photographers, family photoshoots, or studio sessions, this set effortlessly transcends environments and seasons, promising captivating photographs year-round. Embrace the bohemian allure and let your style shine in every frame.
TOP: On shoulder
MATERIAL: Cotten, Muslin
COVERAGE: Yes
STRETCHY: No
SPLIT/SLIT: Slit
Looking for a boho western chic style? Check our entire Boho Collection!
 Shop All Maternity Dresses by Color: White, Red, Black, Pink, All.
Shipping & Returns

Mii-Estilo works with FedEx, UPS, DHL and DPD International.Shipping inside Europe normally takes 1-5 days; Shipping to the US takes 1-10 days; Some other international destinations might take up to 10 days - this time frame is excluding possible customs issues.

We have a 30-day return policy, which means you have 30 days after receiving your item to request a return. For more information, check out our Refund Policy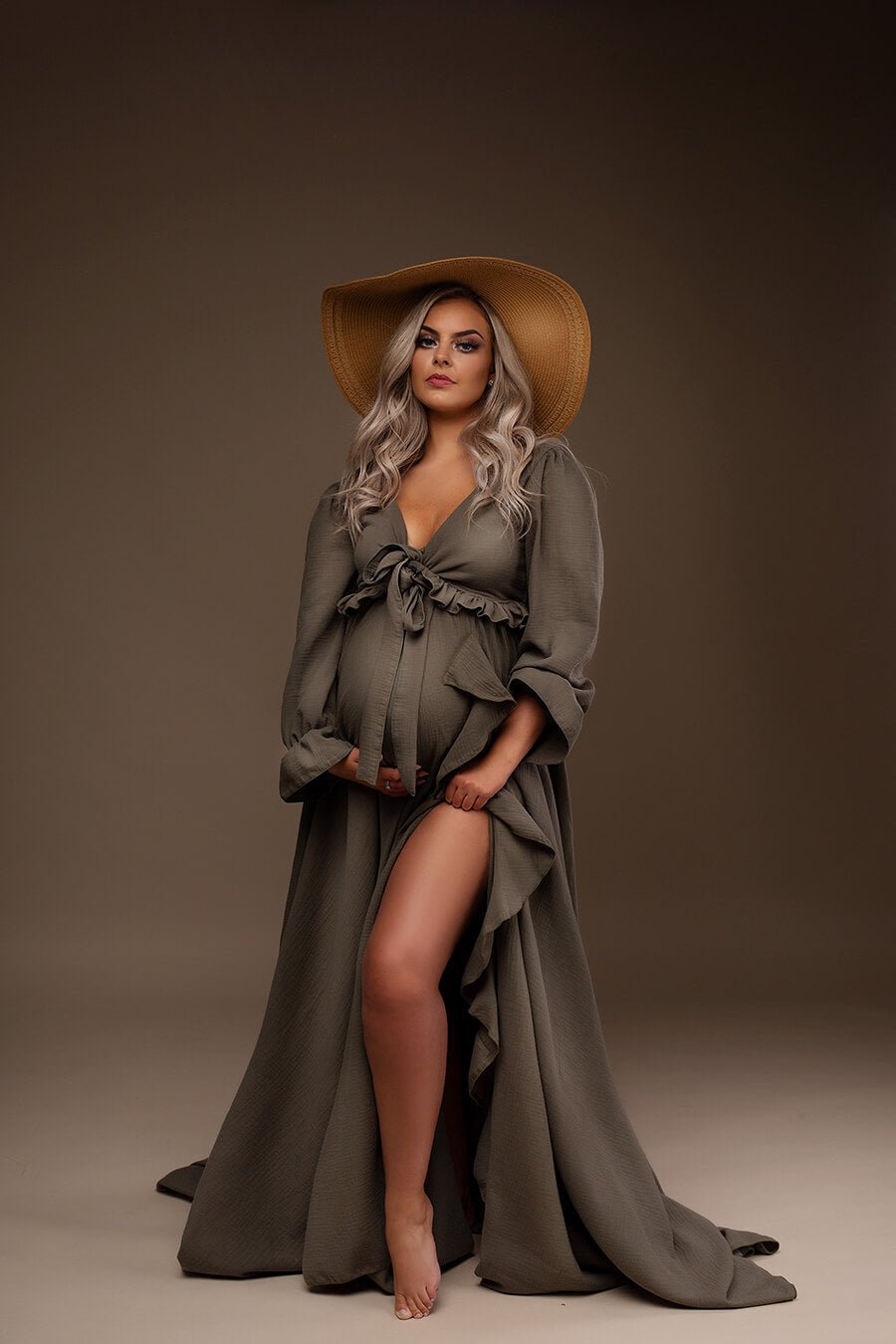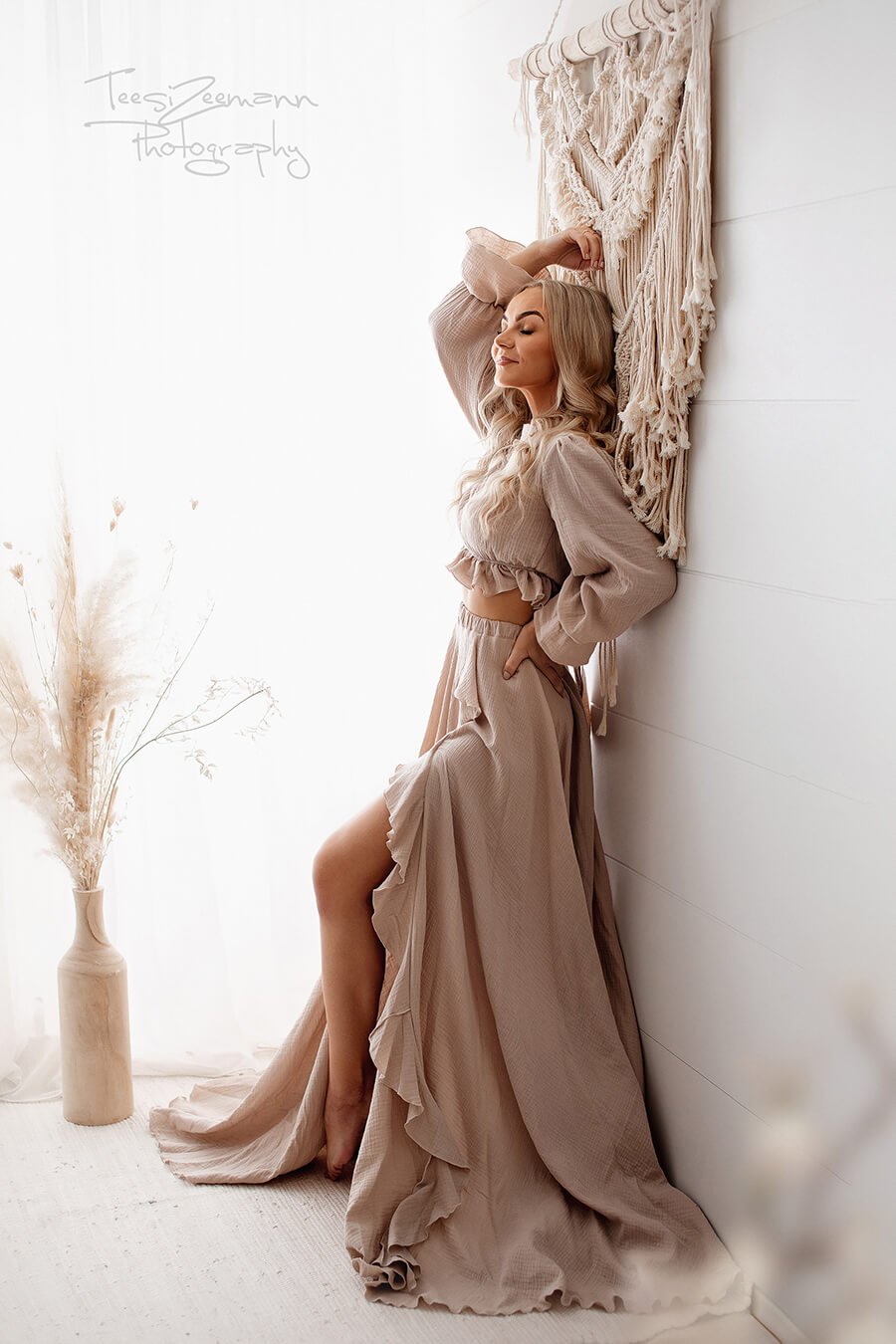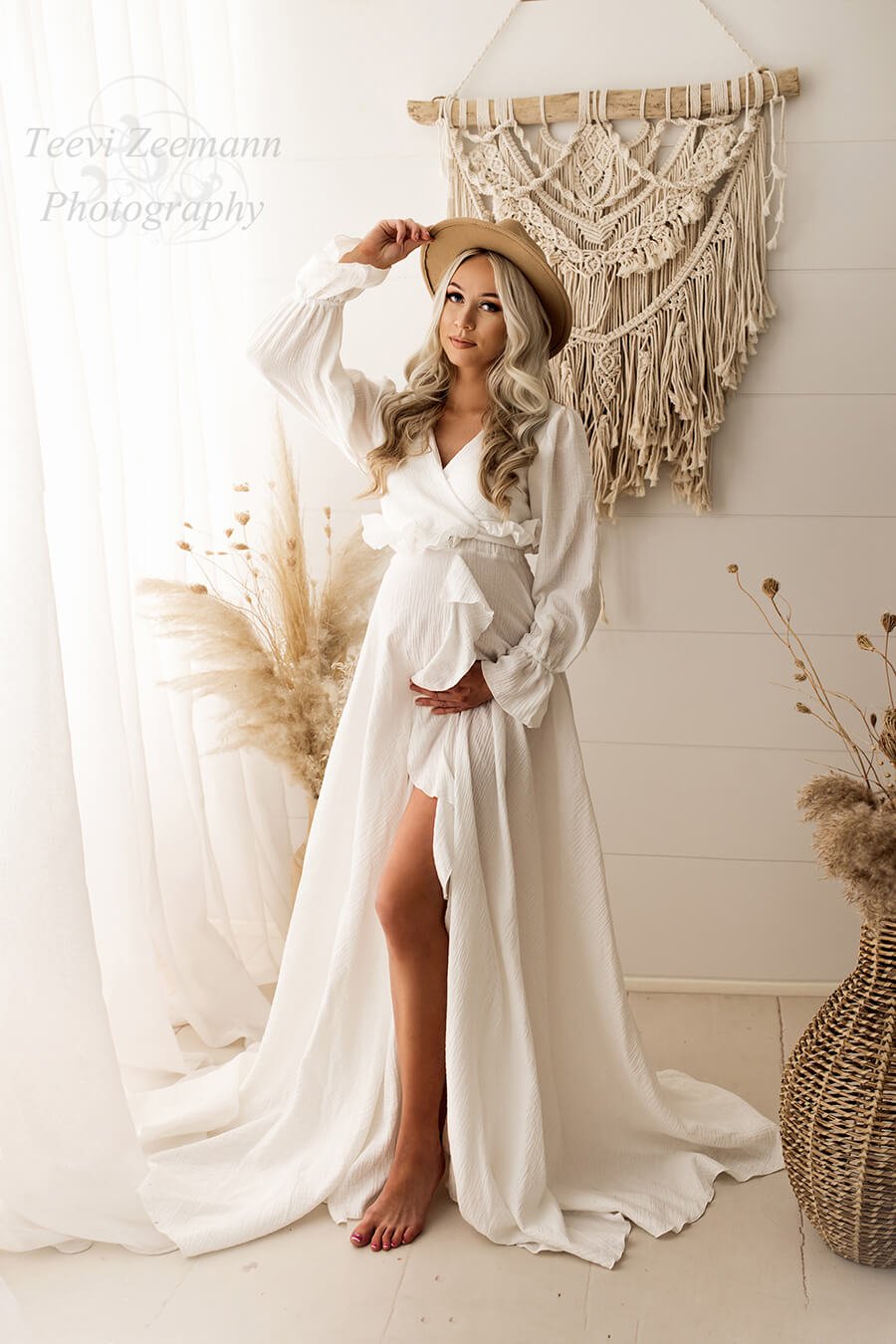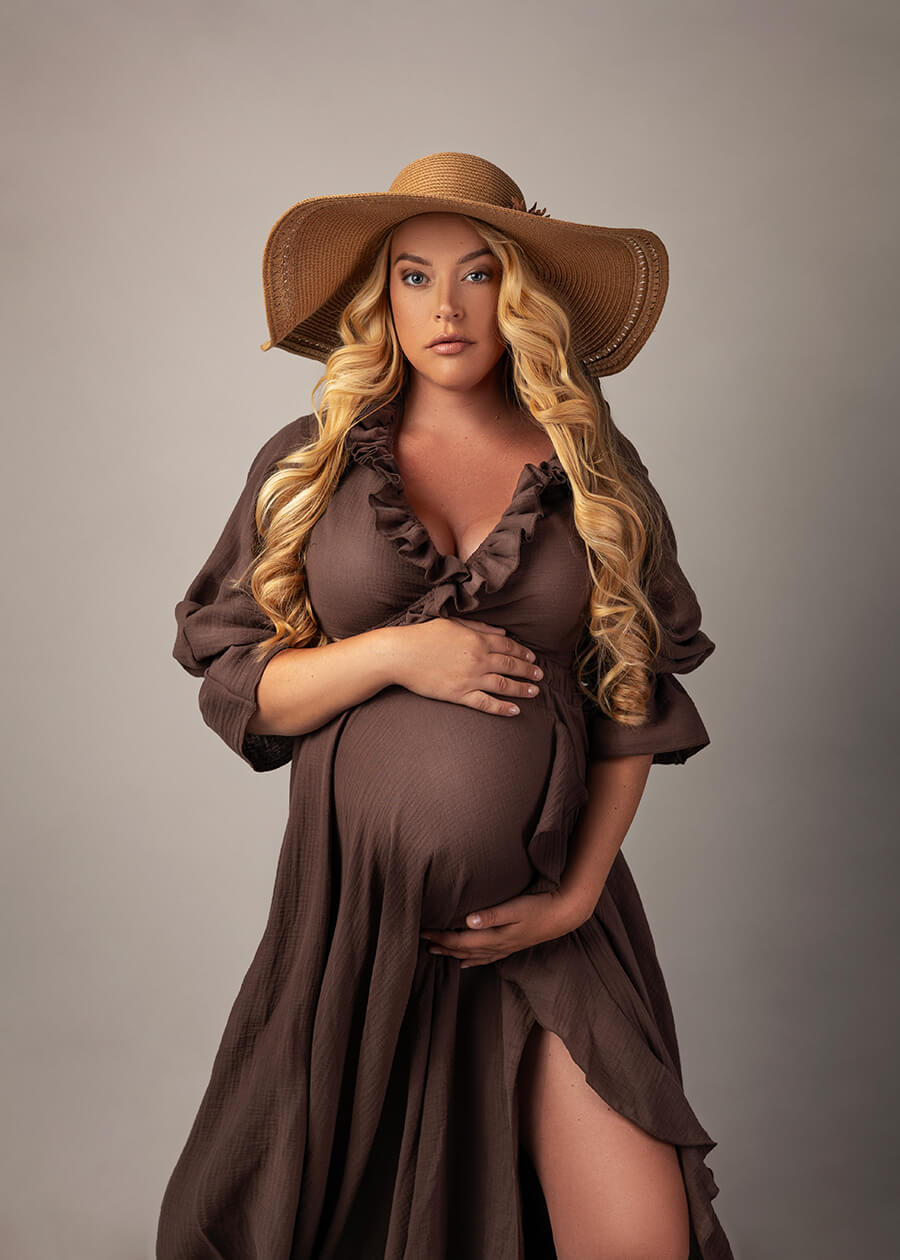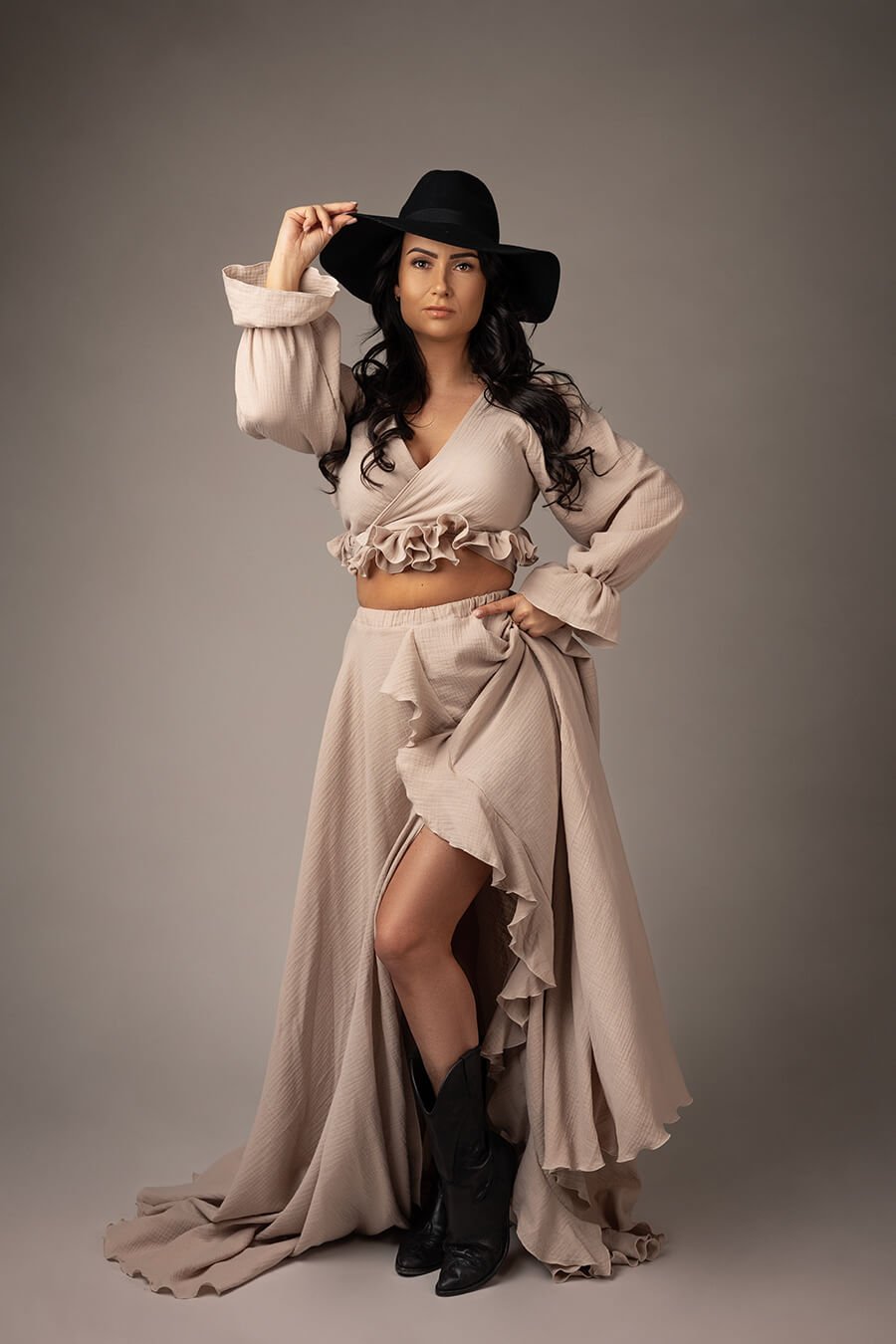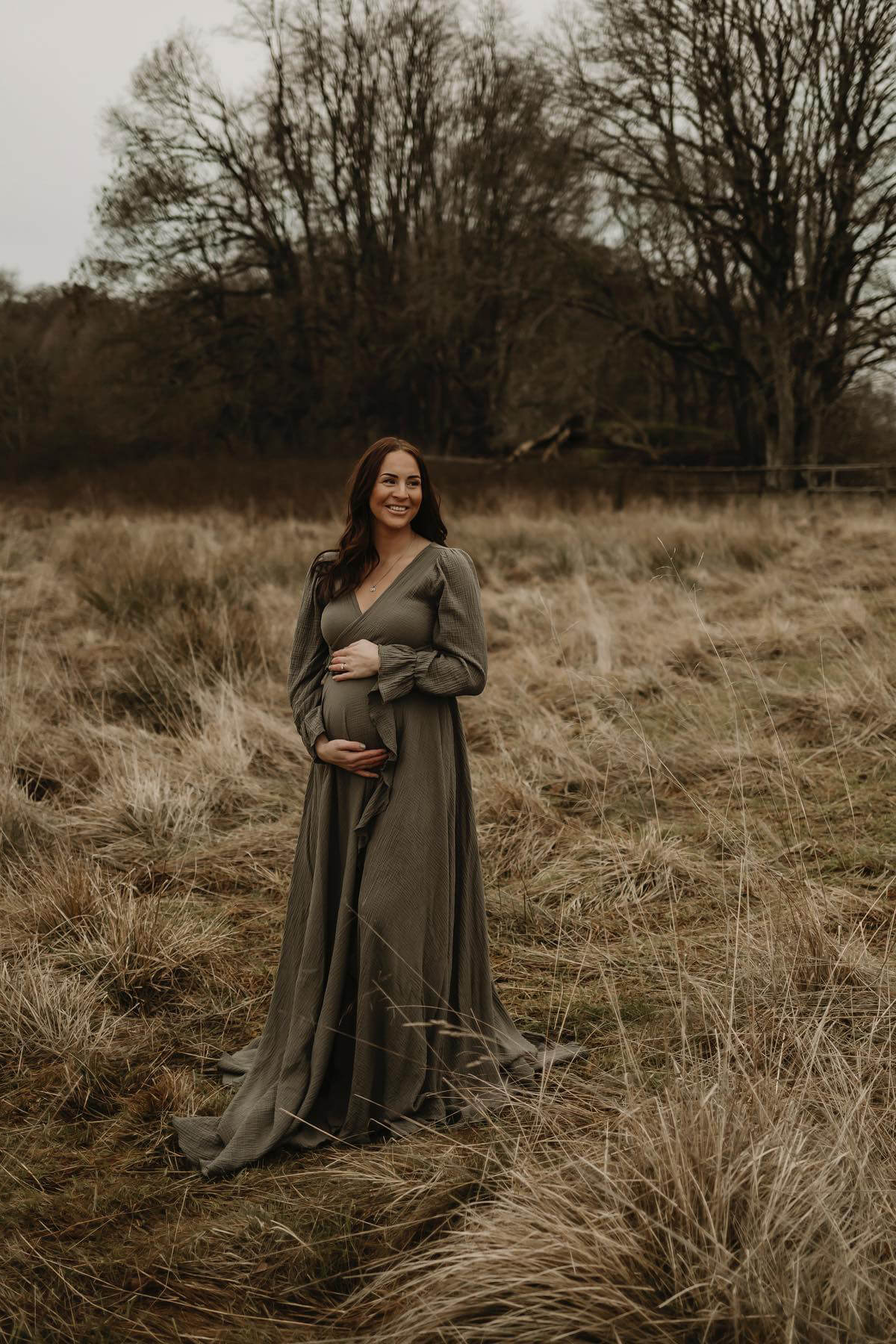 Size chart - Maternity products
Inches:
| | | | | | |
| --- | --- | --- | --- | --- | --- |
|  Europe | USA | UK / AU | Mi-Estilo | Below the Brest | Belly/Waist/Hips |
| 36-38 | 6-8 | 8-10 | S/M | 31.5 - 33.5 | 35.4 - 37.4 |
| 38-40 | 8-10 | 10-12 | M/L | 32.7 - 34.6 | 37.4 - 39.4 |
| 40-42 | 10-12 | 14-16 | L/XL | 33.9 - 35.8 | 39.4 - 41.3 |
| 42-44 | 12-14 | 18-22 | XL/XXL | 35 - 37 | 41.3 - 43.3 |
CM:
| | | | | | |
| --- | --- | --- | --- | --- | --- |
|  Europe | USA | UK / AU | Mi-Estilo | Below the Brest | Belly/Waist/Hips |
| 36-38 | 6-8 | 8-10 | S/M | 80 - 85 | 90 - 95 |
| 38-40 | 8-10 | 10-12 | M/L | 83 - 88 | 95 - 100 |
| 40-42 | 10-12 | 14-16 | L/XL | 86 - 91 | 100 -105 |
| 42-44 | 12-14 | 18-22 | XL/XXL | 89 - 94 | 105 - 110 |