Chrysant Dress
Regular price

$484.37 excl. VAT

Regular price

Sale price

$484.37 excl. VAT
This item is made to order. Processing time 1-2 weeks.
This exquisite gown features a meticulously hand-tailored top adorned with delicate 3D flowers. The back of this lovely piece is thoughtfully designed with basting threads, allowing for easy adjustments. This unique feature ensures that the dress maintains its original size but can be effortlessly worn from non-maternity to maternity, accommodating up to size L.
The skirt boasts a graceful combination of two mesmerizing colors of tulle — blending pink and green hues for a truly ethereal effect. To add a touch of versatility, the dress includes loose tulle sleeves, allowing you to create more than one stunning look with a single garment.
If you're seeking a dress that seamlessly combines romance and adaptability, look no further. Elevate your photoshoot experience with this captivating tulle dress that effortlessly transforms to embrace every beautiful moment.
TOP | Cups ( European size C/D/E)
MATERIAL | Bridal 3D Lace and Soft Tulle
COVERAGE | Yes
STRETCHY | No (The back can be tied)
SPLIT/SLIT | Split in Front
Like mentioned above, the dress is one size and fits up to a size L.
Shipping & Returns

Mii-Estilo works with FedEx, UPS, DHL and DPD International.Shipping inside Europe normally takes 1-5 days; Shipping to the US takes 1-10 days; Some other international destinations might take up to 10 days - this time frame is excluding possible customs issues.

We have a 30-day return policy, which means you have 30 days after receiving your item to request a return. For more information, check out our Refund Policy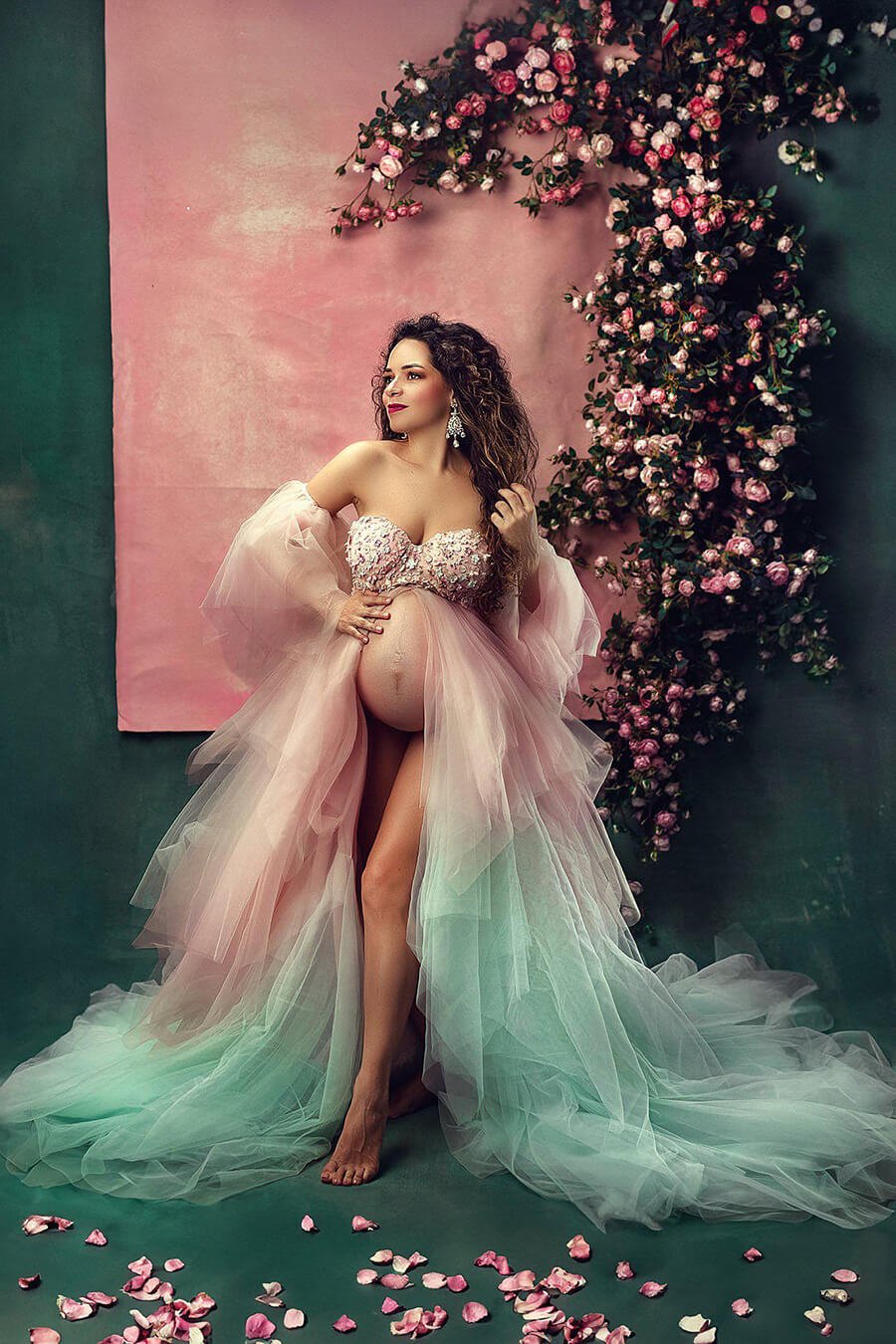 Size chart - Non maternity
Inches:
| | | | | | |
| --- | --- | --- | --- | --- | --- |
|  Europe | USA | UK / AU | Mii-Estilo | Below the Brest | Belly/Waist/Hips |
| 36-38 | 6-8 | 8-10 | S/M | 31.5 - 33.5 | 35.4 - 37.4 |
| 38-40 | 8-10 | 10-12 | M/L | 32.7 - 34.6 | 37.4 - 39.4 |
| 40-42 | 10-12 | 14-16 | L/XL | 33.9 - 35.8 | 39.4 - 41.3 |
| 42-44 | 12-14 | 18-22 | XL/XXL | 35 - 37 | 41.3 - 43.3 |
CM:
| | | | | | |
| --- | --- | --- | --- | --- | --- |
|  Europe | USA | UK / AU | Mii-Estilo | Below the Brest | Belly/Waist/Hips |
| 36-38 | 6-8 | 8-10 | S/M | 80 - 85 | 90 - 95 |
| 38-40 | 8-10 | 10-12 | M/L | 83 - 88 | 95 - 100 |
| 40-42 | 10-12 | 14-16 | L/XL | 86 - 91 | 100 -105 |
| 42-44 | 12-14 | 18-22 | XL/XXL | 89 - 94 | 105 - 110 |