Linde Set
Regular price

$187.85 excl. VAT

Regular price

Sale price

$187.85 excl. VAT
This item is made to order. Processing time 1-2 weeks.
Introducing the ultimate fusion of sexy and cool – our radiant set that is destined to be your next must-have! Freshly added to our webshop since fall 2023, this ensemble is crafted from stretchy lamee fabric, a material that has quickly gained popularity, especially for colored gel lamp photoshoots – a trend that's been taking the photography scene by storm.
The top of this set is a canvas for your creativity, as it can be tied in multiple ways, allowing you to express your unique style. Unleash your imagination and let your creativity shine as you experiment with different ways to tie the top, ensuring that each photoshoot is a showcase of innovation and individuality.
The skirt of the set adds a touch of allure with its gathered front and a stylish slit, allowing you to strike the perfect balance between sophistication and edge. It's a versatile piece that can be customized to suit various moods and settings, making it a must-have for photographers who want to bring innovation to their shoots.
For photographers aiming to be on the cutting edge of fashion and style, this set is a game-changer. Elevate your photoshoots with the perfect mix of sexy and cool, and watch as your models exude confidence and individuality. Make a statement in the world of photography with this innovative and must-have ensemble.
TOP | Strapless
NECKLINE | Sweetheart
SKIRT | Mermaid Style
FIT | Slim Fit
MATERIAL | Lamee
COVERAGE | Yes
STRETCHY | Yes
SPLIT/SLIT | Slit
Photographers usually buy size M/L

Not a photographer? order the size you wore before your pregnancy.
Don't forget to take a look at our items for studio photoshoot and photoshoot accessories.
Shop All Maternity Dresses by Color: White, Red, Black, Pink, All.
Shipping & Returns

Mii-Estilo works with FedEx, UPS, DHL and DPD International.Shipping inside Europe normally takes 1-5 days; Shipping to the US takes 1-10 days; Some other international destinations might take up to 10 days - this time frame is excluding possible customs issues.

We have a 30-day return policy, which means you have 30 days after receiving your item to request a return. For more information, check out our Refund Policy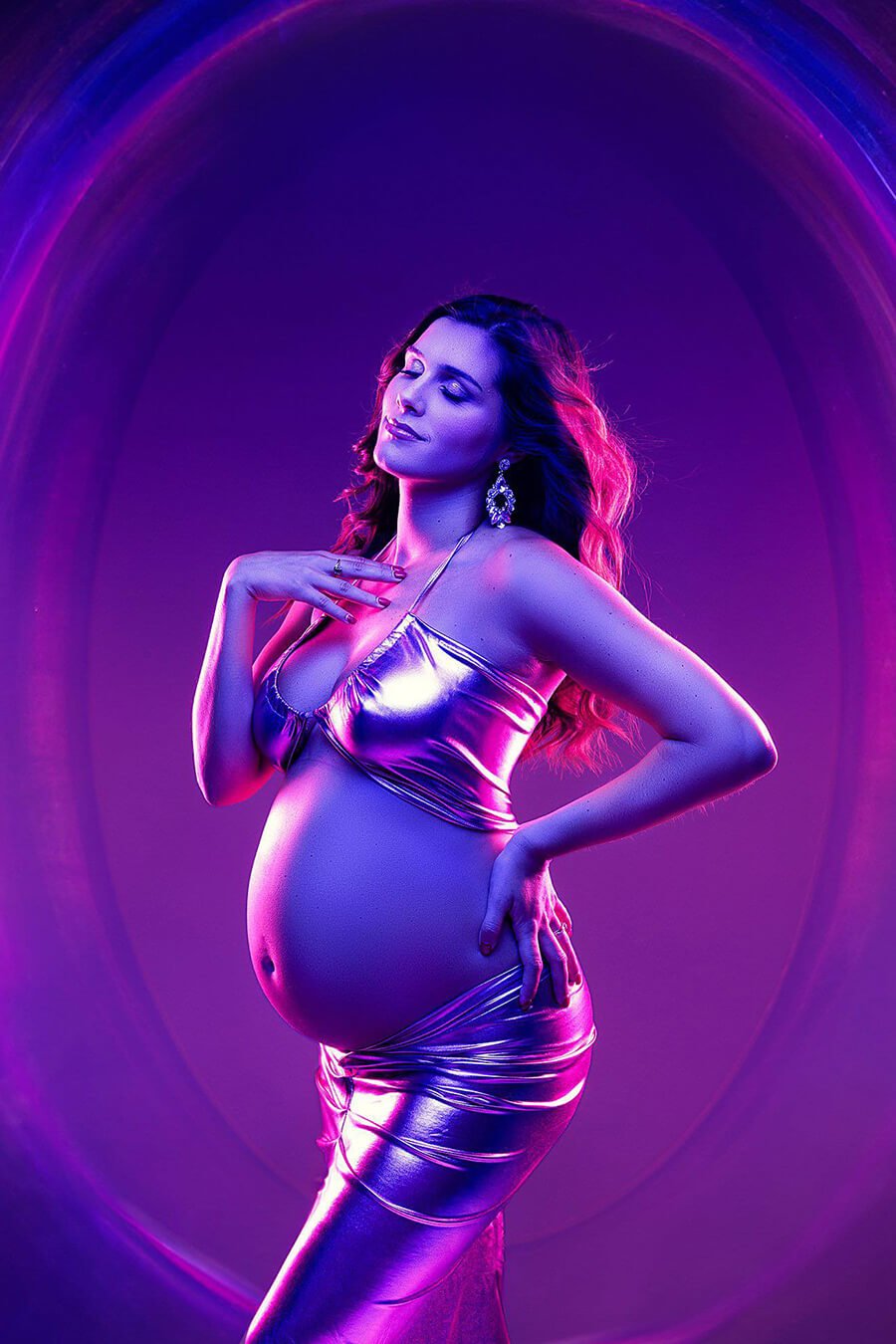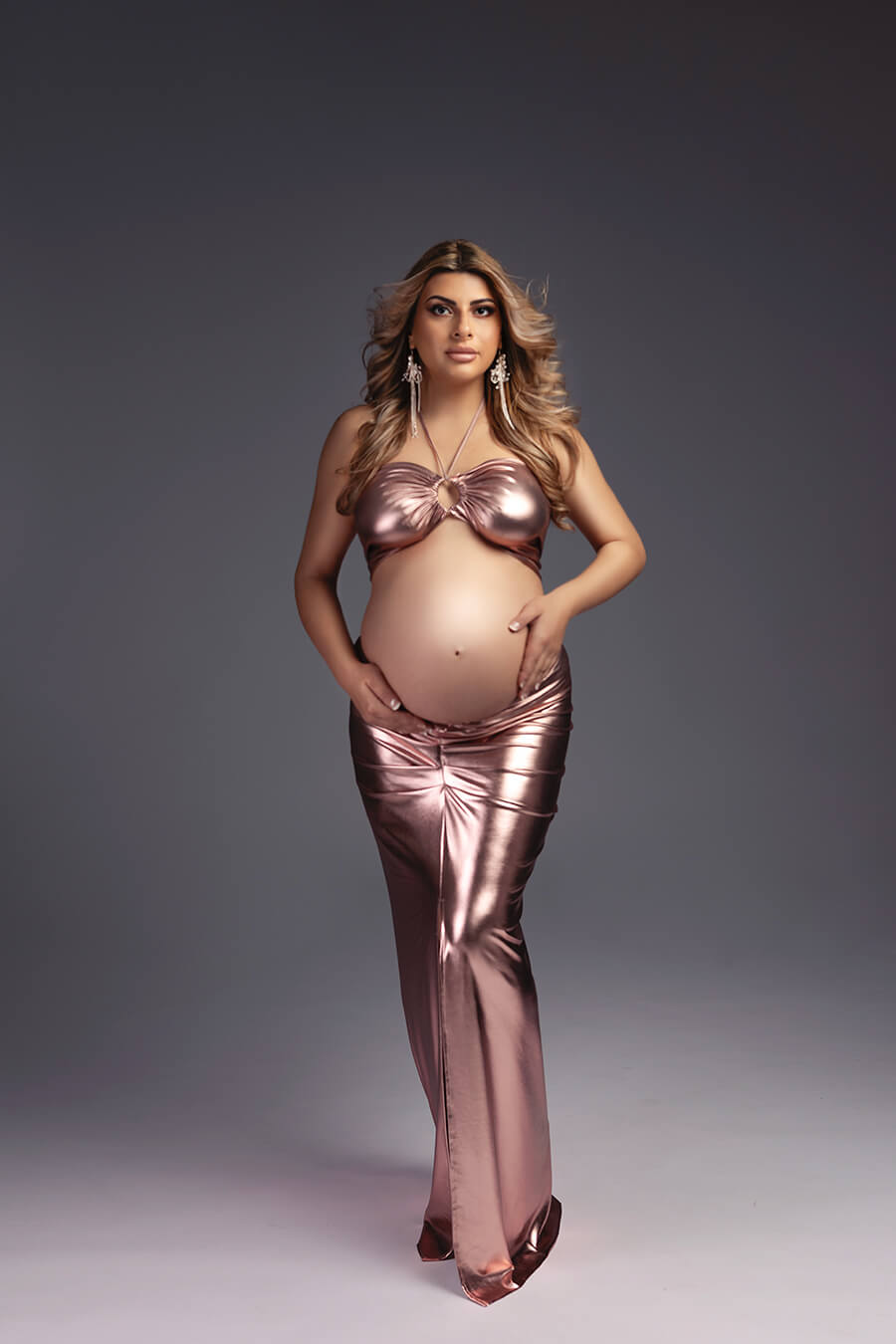 Size chart - Maternity products
Inches:
| | | | | | |
| --- | --- | --- | --- | --- | --- |
|  Europe | USA | UK / AU | Mi-Estilo | Below the Brest | Belly/Waist/Hips |
| 36-38 | 6-8 | 8-10 | S/M | 31.5 - 33.5 | 35.4 - 37.4 |
| 38-40 | 8-10 | 10-12 | M/L | 32.7 - 34.6 | 37.4 - 39.4 |
| 40-42 | 10-12 | 14-16 | L/XL | 33.9 - 35.8 | 39.4 - 41.3 |
| 42-44 | 12-14 | 18-22 | XL/XXL | 35 - 37 | 41.3 - 43.3 |
CM:
| | | | | | |
| --- | --- | --- | --- | --- | --- |
|  Europe | USA | UK / AU | Mi-Estilo | Below the Brest | Belly/Waist/Hips |
| 36-38 | 6-8 | 8-10 | S/M | 80 - 85 | 90 - 95 |
| 38-40 | 8-10 | 10-12 | M/L | 83 - 88 | 95 - 100 |
| 40-42 | 10-12 | 14-16 | L/XL | 86 - 91 | 100 -105 |
| 42-44 | 12-14 | 18-22 | XL/XXL | 89 - 94 | 105 - 110 |