Salvia Bodysuit (Mok-A Photographie Collection)
Regular price

$187.85 excl. VAT

Regular price

Sale price

$187.85 excl. VAT
This item is made to order. Processing time 1-2 weeks.
The Salvia Sequin Bodysuit is a dazzling choice for a glamorous maternity or boudoir photoshoot, sure to make a bold statement. Whether worn alone or paired with accessories, it promises to elevate the visual impact of your images.
The versatility of this bodysuit is a standout feature, allowing you to experiment with two distinct styles by wearing the top either criss-cross or in the neckline. This flexibility not only adds variety to your photos but also caters to individual preferences and the overall theme of the photoshoot.
What makes this bodysuit particularly exciting for photographers is its compatibility with color lighting in the studio. The sequins catch and reflect light in a mesmerizing way, creating a play of colors that can be accentuated with creative lighting setups. The result is a series of visually striking images that showcase both the sequin texture and the expectant or non-expectant subject in a glamorous light.
Whether capturing the radiant glow of a mother-to-be or the allure of a non-pregnant subject, the Salvia Sequin Bodysuit promises a "wow" effect. Its ability to transform under different lighting conditions and styling choices makes it a versatile and indispensable addition to your photoshoot wardrobe. This showstopper not only celebrates individual style but also provides a canvas for your creative exploration, ensuring each photoshoot is a unique and visually stunning experience.
TOP | Criss cross halter
SLEEVE | No sleeves
MATERIAL | Stretch sequin
COVERAGE | Yes
STRETCHY | Stretchy
FIT | Slim Fit
FINAL SALE | Due to hygiene, bodysuits are final sale.
Shipping & Returns

Mii-Estilo works with FedEx, UPS, DHL and DPD International.Shipping inside Europe normally takes 1-5 days; Shipping to the US takes 1-10 days; Some other international destinations might take up to 10 days - this time frame is excluding possible customs issues.

We have a 30-day return policy, which means you have 30 days after receiving your item to request a return. For more information, check out our Refund Policy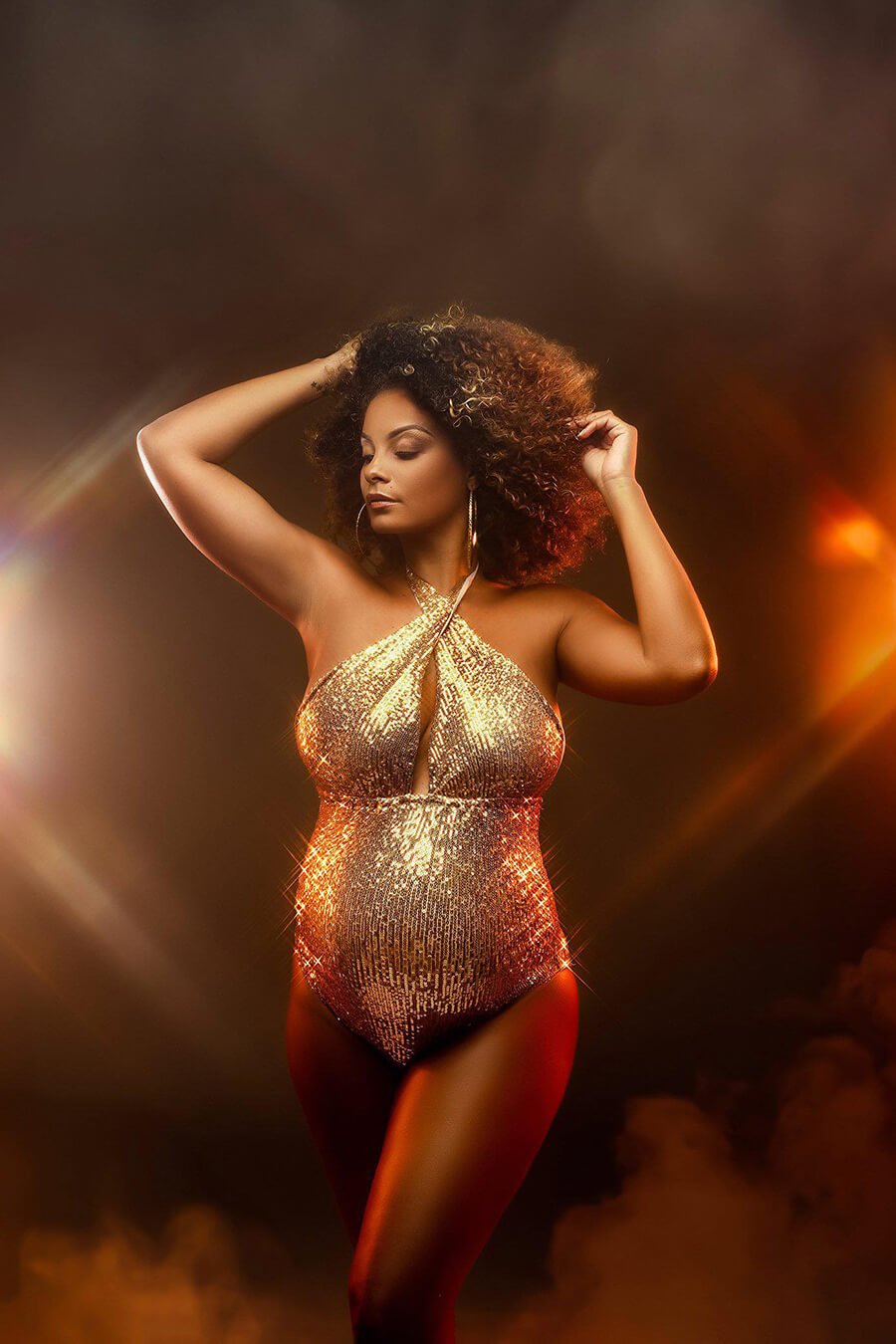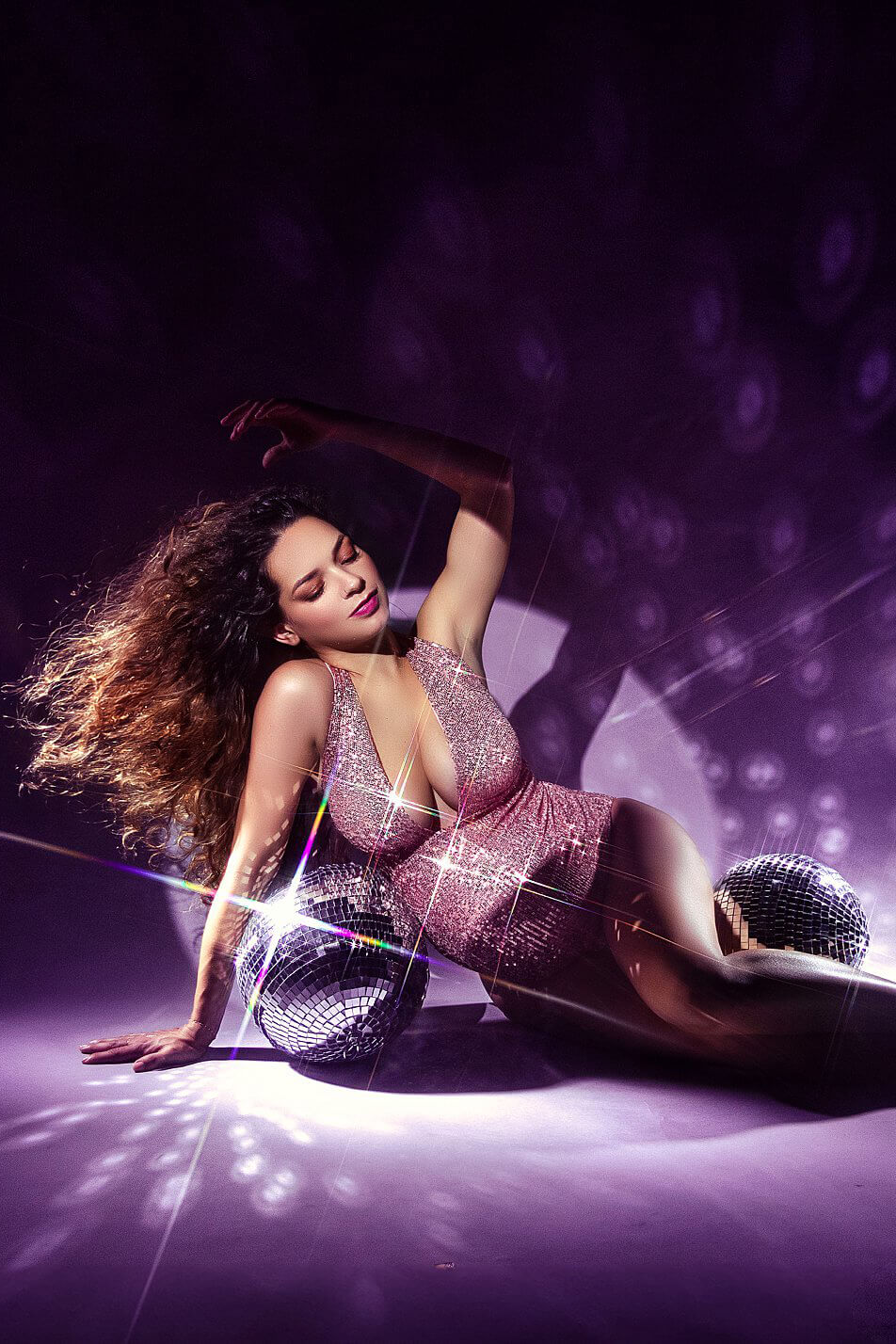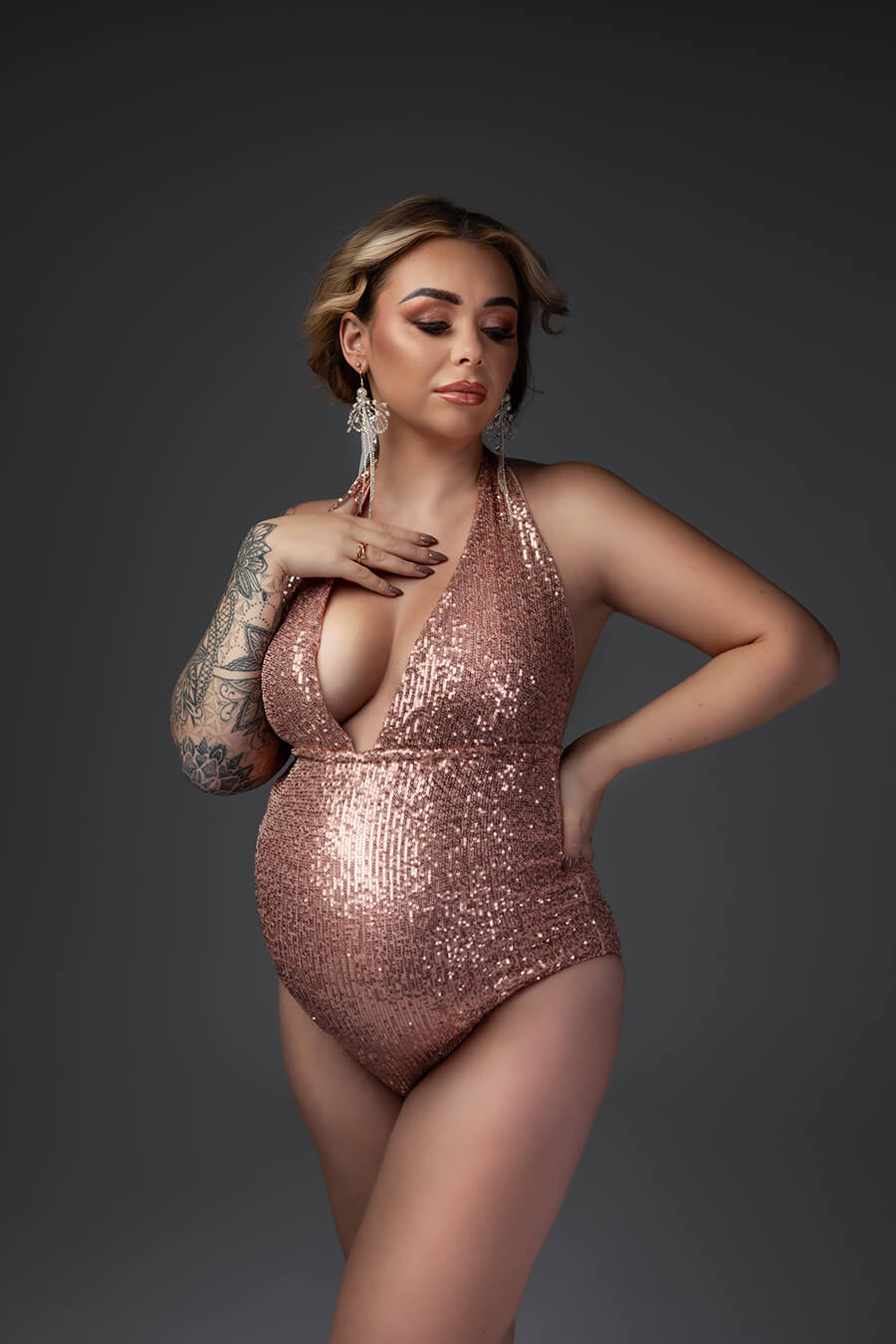 Size chart - Maternity products
Inches:
| | | | | | |
| --- | --- | --- | --- | --- | --- |
|  Europe | USA | UK / AU | Mi-Estilo | Below the Brest | Belly/Waist/Hips |
| 36-38 | 6-8 | 8-10 | S/M | 31.5 - 33.5 | 35.4 - 37.4 |
| 38-40 | 8-10 | 10-12 | M/L | 32.7 - 34.6 | 37.4 - 39.4 |
| 40-42 | 10-12 | 14-16 | L/XL | 33.9 - 35.8 | 39.4 - 41.3 |
| 42-44 | 12-14 | 18-22 | XL/XXL | 35 - 37 | 41.3 - 43.3 |
CM:
| | | | | | |
| --- | --- | --- | --- | --- | --- |
|  Europe | USA | UK / AU | Mi-Estilo | Below the Brest | Belly/Waist/Hips |
| 36-38 | 6-8 | 8-10 | S/M | 80 - 85 | 90 - 95 |
| 38-40 | 8-10 | 10-12 | M/L | 83 - 88 | 95 - 100 |
| 40-42 | 10-12 | 14-16 | L/XL | 86 - 91 | 100 -105 |
| 42-44 | 12-14 | 18-22 | XL/XXL | 89 - 94 | 105 - 110 |