Violet Dress
Regular price

$666.99 excl. VAT

Regular price

Sale price

$666.99 excl. VAT
This item is made to order. Processing time 1-2 weeks.
Unleash your creativity with the Violet dress—an all-in-one masterpiece designed to transform your photoshoot experience! Elevate your photo sessions by discovering the endless possibilities that come with this versatile ensemble.
The Violet dress empowers you to craft several distinctive looks effortlessly. The loose-fitting top and sleeves provide a canvas for your personal style, and the dress comes complete with various bottoms, all included for your convenience. Mix and match with the long tulle skirt for an ethereal and elegant vibe, opt for the sleek mermaid-style jersey skirt for a chic silhouette, or embrace comfort and style with the jersey bodysuit.
Capture the essence of each moment with the versatility of the Violet dress. Whether you're going for a dreamy and romantic aesthetic or a bold and contemporary vibe, this dress is your go-to choice for creating stunning and diverse looks during your photoshoot. Elevate your photography sessions with the endless possibilities that the Violet dress brings to your wardrobe.
 TOP: Cups ( European size C/D/E)
MATERIAL: Jersey and Soft Tulle
COVERAGE: Yes
STRETCHY: No (The back can be tied)
SPLIT/SLIT: Split in Front
Like mentioned above, the dress is one size and fits up to a size L.
Shipping & Returns

Mii-Estilo works with FedEx, UPS, DHL and DPD International.Shipping inside Europe normally takes 1-5 days; Shipping to the US takes 1-10 days; Some other international destinations might take up to 10 days - this time frame is excluding possible customs issues.

We have a 30-day return policy, which means you have 30 days after receiving your item to request a return. For more information, check out our Refund Policy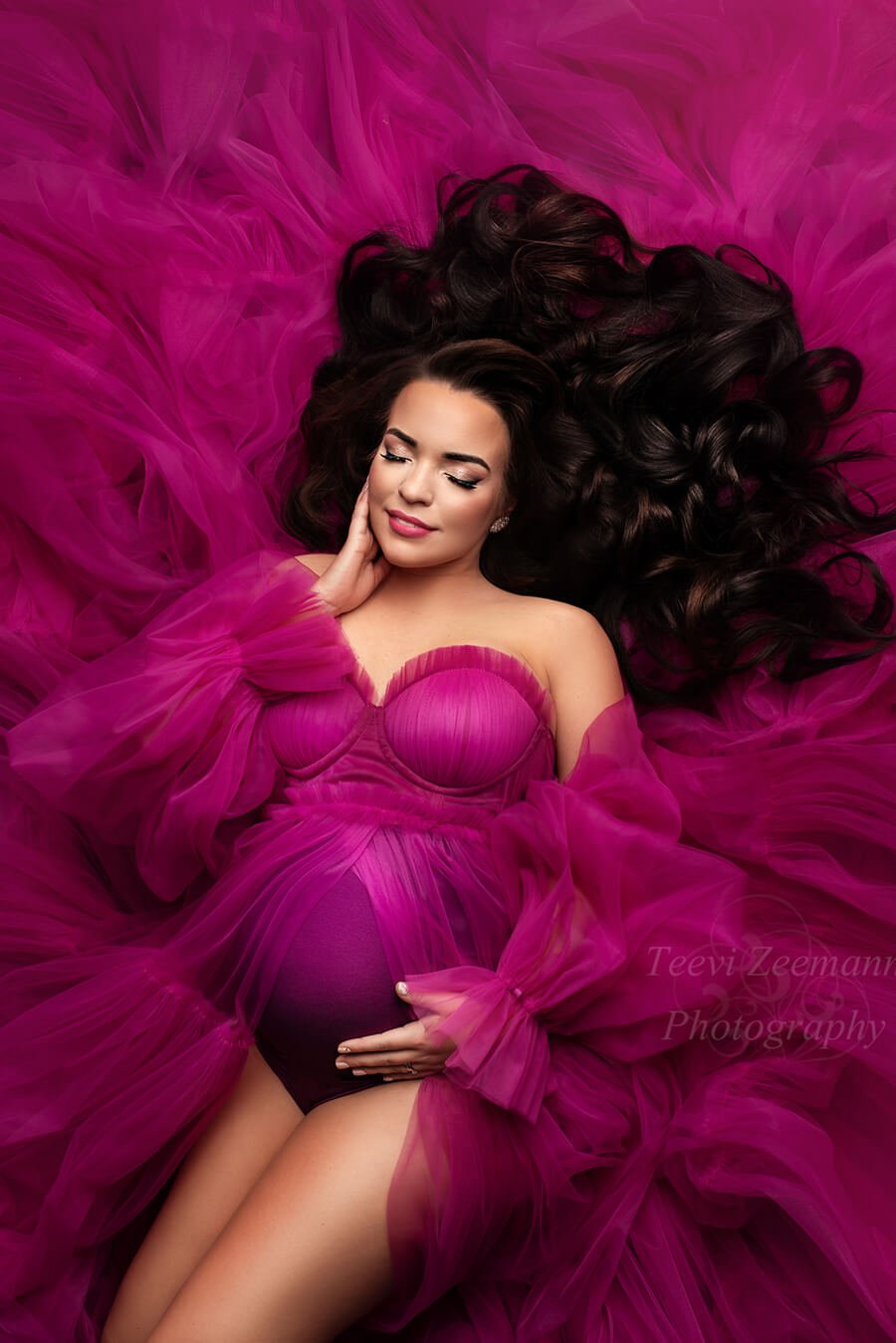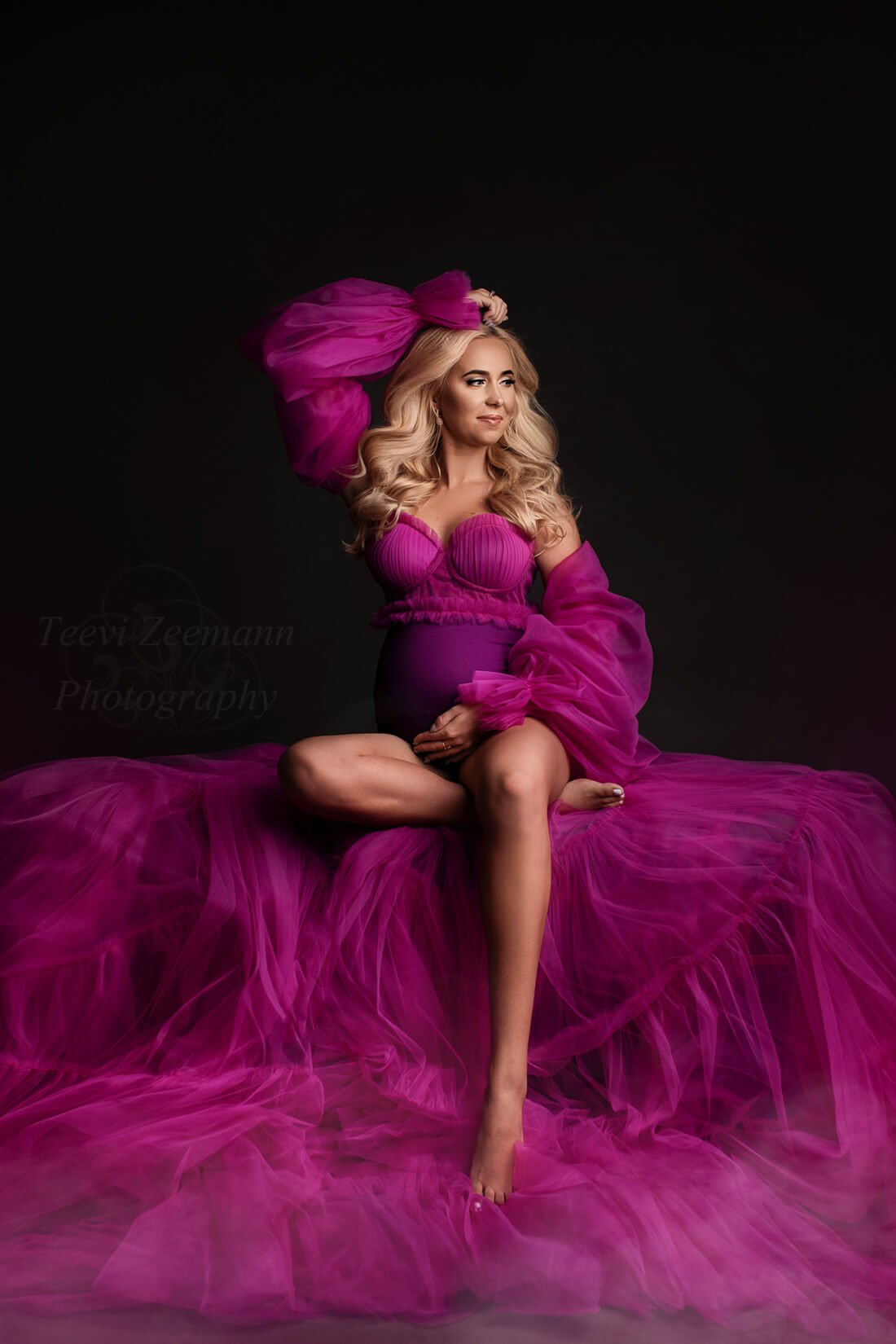 Size chart - Maternity products
Inches:
| | | | | | |
| --- | --- | --- | --- | --- | --- |
|  Europe | USA | UK / AU | Mi-Estilo | Below the Brest | Belly/Waist/Hips |
| 36-38 | 6-8 | 8-10 | S/M | 31.5 - 33.5 | 35.4 - 37.4 |
| 38-40 | 8-10 | 10-12 | M/L | 32.7 - 34.6 | 37.4 - 39.4 |
| 40-42 | 10-12 | 14-16 | L/XL | 33.9 - 35.8 | 39.4 - 41.3 |
| 42-44 | 12-14 | 18-22 | XL/XXL | 35 - 37 | 41.3 - 43.3 |
CM:
| | | | | | |
| --- | --- | --- | --- | --- | --- |
|  Europe | USA | UK / AU | Mi-Estilo | Below the Brest | Belly/Waist/Hips |
| 36-38 | 6-8 | 8-10 | S/M | 80 - 85 | 90 - 95 |
| 38-40 | 8-10 | 10-12 | M/L | 83 - 88 | 95 - 100 |
| 40-42 | 10-12 | 14-16 | L/XL | 86 - 91 | 100 -105 |
| 42-44 | 12-14 | 18-22 | XL/XXL | 89 - 94 | 105 - 110 |